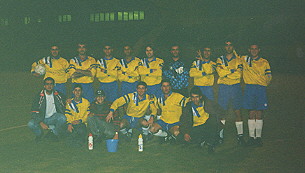 Standing from left to right L.Pitto,M.Hill,R.Gomez,M.Bousselham,C.Brown,D.Gavito,E.Navarro,E.Clinton,N.SanchezCrouching from left to right R.Alman,D.Guerrero,B.Navarro,N.Perera,N.Hayes,D.Navarro,Not on photo J.Pitto,K.Bugeja,S.Robles,N.Victory

---
Season 97/98
The Gibraltar Football Association promoted 6 teams from the 4th division to the 3rd, due to other teams in the higher divisions leaving the league, and some new teams joining the 4th division. So in our second year of existence, we played in the Gibraltar Football Association 3rd Division.


Laguna Football Club 97/98
Standing from left to right J.Pitto,M.Murphy,R.Gomez,C.Brown,J.Randall,M.Hill,M.Bousselham,J.Benitez,T.WinkCrouching from left to right N.Sanchez,J.Martinez,J.Prescott,K.Bugeja,N.Hayes,D.Guerrero,Not on photo L.Pitto,S.Robles,N.Victory


For this season we managed to pay the G.F.A fees without the help of any sponsor. Six players left and five new players were recruited for the beginning of the season. Season which we started excellently winning our first 2 matches against Lions Res and St Theresas Res, (the latter would go on to win the league with just 2 defeats).

For the next game we could only field 10 players(some players due to work commitments and others to injuries) and we lost it to Calpe Milan, but the next game(2/12/97) we beat Gib County by 8 goals to 1 being this our biggest win to date(see Statistics page).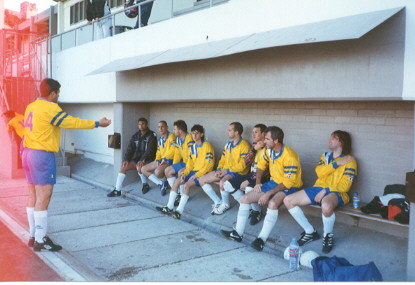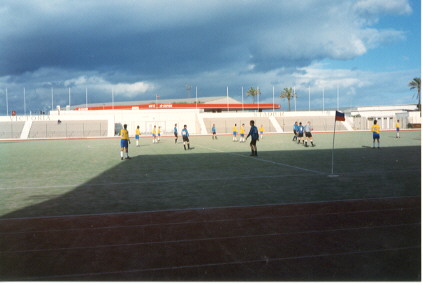 2 shots from that game against Gib County

On the left, J.Pitto(captain) giving instructions at half time. On the right, Action from this game.



Our next match was after the Christmas period and it was for the Gibraltar Football Association Cup again against Gib County. It was one of the best games that both teams have played this season, ending with Laguna F.C winning by 3-2, third goal scored in the last minute of the game.

Then we faced Calpe Milan for the 3rd Division Cup, another memorable game in which we were 2 goals down at the end of the first half, but by the 30th minute of the second half had managed to bounce back and were leading by 3-2, only to be drawn in the last minute of the game. As it was a Cup game penalties had to be taken of which we missed 3 and they only missed 1.

We were defeated in the 2nd round of the G.F.A Cup by College Cosmos a team of under 18's which had entered the 4th division this year, and had a very well organized and disciplined team. From then on we only had the league to contend with, and we continued to try to at least maintain ourselves in the 3rd division for the next year.

By the end of the season we had reached our objective ending 5th in the league just 6 points(2 matches) behind the 2nd placed team.



3rd Division League Table 97/98




| | | | | | | | | | |
| --- | --- | --- | --- | --- | --- | --- | --- | --- | --- |
| 1 | St Theresas Res | 14 | 12 | 0 | 2 | 57 | 15 | 42 | 36 |
| | | | | | | | | | |
| --- | --- | --- | --- | --- | --- | --- | --- | --- | --- |
| 2 | Jyske Bank | 14 | 9 | 0 | 5 | 43 | 25 | 18 | 27 |
| | | | | | | | | | |
| --- | --- | --- | --- | --- | --- | --- | --- | --- | --- |
| 3 | Pegasus Ath | 14 | 9 | 0 | 5 | 38 | 27 | 11 | 27 |
| | | | | | | | | | |
| --- | --- | --- | --- | --- | --- | --- | --- | --- | --- |
| 4 | Calpe Milan | 14 | 8 | 0 | 6 | 43 | 36 | 7 | 24 |
| | | | | | | | | | |
| --- | --- | --- | --- | --- | --- | --- | --- | --- | --- |
| 5 | Laguna F.C. | 14 | 7 | 0 | 7 | 37 | 35 | 2 | 21 |
| | | | | | | | | | |
| --- | --- | --- | --- | --- | --- | --- | --- | --- | --- |
| 6 | Glacis Ath | 14 | 5 | 1 | 8 | 16 | 37 | -21 | 16 |
| | | | | | | | | | |
| --- | --- | --- | --- | --- | --- | --- | --- | --- | --- |
| 7 | Gib County | 14 | 4 | 1 | 9 | 23 | 42 | -19 | 13 |
| | | | | | | | | | |
| --- | --- | --- | --- | --- | --- | --- | --- | --- | --- |
| 8 | Lions Res | 14 | 1 | 0 | 13 | 15 | 56 | -41 | 3 |
---
Current Season
Season 2002-2003
Season 2001-2002
Season 2000-2001
Season 1999-2000
Season 1998-1999
---